Formed in 1997 out of Kevin Breidenbach's love of both electronic music & computers, Skin Contact has incorporated a wide range of influences to form a unique blend of dark electronics. The music of SC has been described by the underground press as being "meticulously sculpted", "expertly engineered", and "intelligent".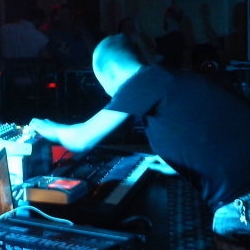 In addition to SC, Kevin has another solo electronic project called Fugue State, which leans more towards the ambient/experimental/IDM side of things. There have also been a number of collaborative projects over the years, the first being Skin Receptor with D. Smith, which later fused with another project of D.'s called Krushed Opiates (also featuring Al Warr of Krush-R). KO appeared on several compilations and released an album called Driving the Two-Dimensional Highway on DSBP Records in 2002. Circumstances kept any follow-up from appearing until 2016, when KO began putting out collections of rarities, unreleased tracks, remixes of other artists, and other goodies from the back-catalog in anticipation of new material. Another notable collaboration is Cogitate, with Riki Rezinunts of Gross National Produkt. A few tracks were recorded around 2001 or so, after which the project sat on hold until 2016, when Kevin & Riki began exchanging material again. Recently, a track was recorded in collaboration with Meagan J of Mrs. Dink/Degenerate Trifecta (and featuring The Vessel of G.O.N. on vocals) under the name Monica Devertebre. More material is in the works for this project as well.
Kevin is also an active remixer, both solo projects having done a number of remixes for acts such as The Mercy Cage, STG, Diverje, Machines On Blast, N.U.T.E, Jazzyspoon, and others. Skin Receptor also remixed a number of tracks while they were active, some of which are still floating around the net. Past Krushed Opiates remixes are currently available from the KO bandcamp page.
Save
Save
Save
Save
Save
Save
Save
Save